This weeks Blog is again going ver the shots taken in the Australian Botanical Gardens, Mount Annan. The day started off good as i finally managed to pick up my long awaited Sigma 150-600 sports Zoom Lens. Wow is it good. I took it out today and gave it a going over and was very happy with th shots i got and when I brought them home and down loaded them onto the iMac 27" 5K screen they didn't disappoint. So happy with this for a first day tryout. Most of my bird shots in the past I've had to heavily crop into to get something close to what I want but a lot of these are uncropped. So all the details still there and no noise from cropping in.
I was out there for about 4 and a half hours so plenty of time to feel the weight of this beast of a lens, but with my back pack of lenses plus the 60D as well as the 7Dmk2 whats another couple of kgs.
So the first shot here is of the Lens on the tripod. As you can see its quite a size, but still hand holdable as some of these shots are hand held.
The Image stabilisation is great and I even managed a shot at 1/25 of a second at 600mm reach on the crop body as a test shot mind you I was in a lounge chair but still I could never get that with the 70-200. So very happy with this one.
So on with the shots from today. As soon as I drove in to the Gardens today there was a Pacific Heron patrolling the Grass, So this was my first shots, Ok nothing to exciting yet, but a good start.
I then drove to the Stolen Generation walk and walked along the track. First I saw a pair of Lorikeets up high but the 600mm reach on this combined with the crop body of the 7D giving an effective focal length of 960mm this one was shot hand held and only 558mm effectively 892mm.
I walked a little further here I found a pair of Mistletoebird (Dicaeum hirundinaceum) birds raiding the bullrushes for their nest. This was the first wow moment with this lens, as soon as I saw these shots on the back of the LCD I was a happy camper.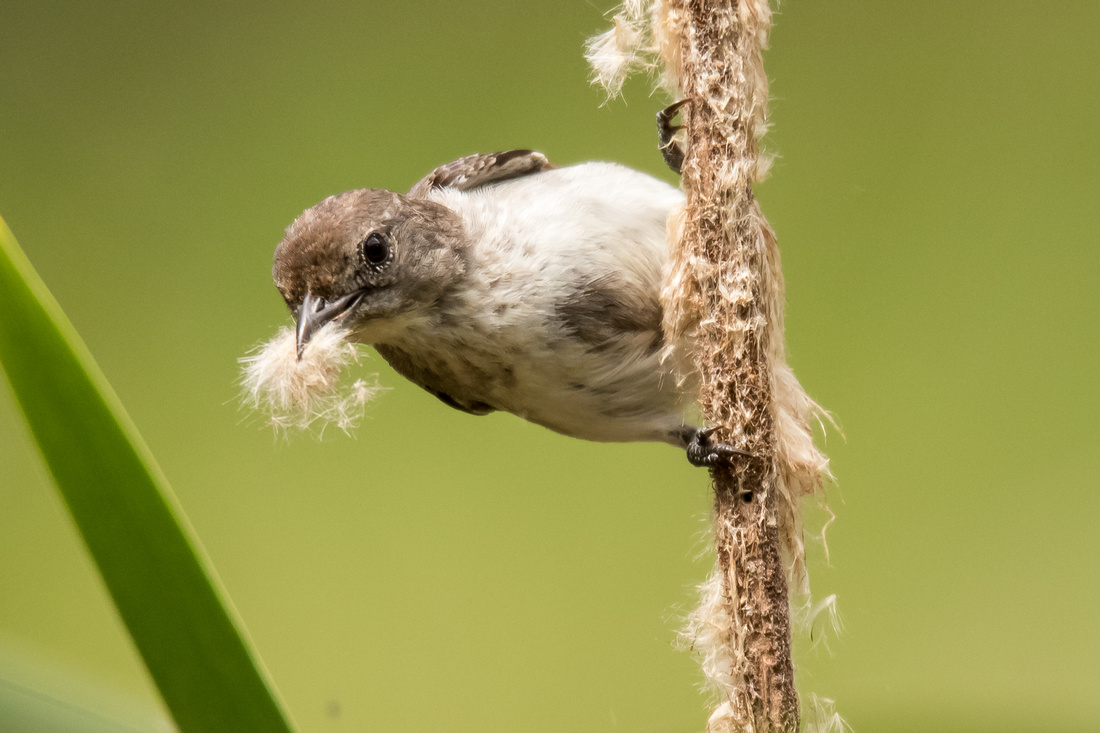 I stayed around here for a while and high up in the gum trees was a Varied Sittella (Daphoenositta chrysoptera) this little one was working its way along the trunks looking for insects.
After spending a hour or so there I headed up to the Wollemi Pine Walk of Discovery To see if I could find any Mushrooms, not much luck this week and only the ones from last week there looking a little sad, so took these and headed off to the connections gardens.
This shot was from the 60d with the 100mm Macro, all the other shots here today are from the 7dmk2 with the sigma 150-600.
Here I found a family of Olive‑backed Oriole (Oriolus sagittatus) so got a few shots this was the best of these.
There was also a few Satin Bowerbird (Ptilonorhynchus violaceus) about up high, again with the new reach no problem.
So all up for a first day out with this one, very happy, still got to get use to the extra weight but that won't be a problem if I can get these and better.
Lastly as its Valentines Day the Gardens caved these up on the hillside in full view of the main picnic area by the lakes.
So a great day all up today. Shall have to see what tomorrows like an may head out again.
Thanks for dropping by.
Glenn.