This weeks walk thought the Australian Botanical Gardens, Mount Annan with my Cameras was a good one, loads of good shots this week so pretty happy with this weeks results so far. Though some times after a few days the images start to loose there magic.
But this week loads of decent Bird shots and a few good mushrooms to be found as well, so all up a good day out.
I started around 11:00 am today and started off around the stolen generation memorial. Looking for some birds in the area, however the first thing I found was three mushrooms, So I set to work on these while waiting for the birds to get use to me.
The first one I set up and took a few shots one of the first was well over done, but when I got back home and started to process it I was about to discard it when I released you can actually see the spores being released in the flash, the shot was well over exposed with to much power on the flash, but still Picking up the spores was a bonus, I adjusted the power and also added a brown gel to one of the flashes this week to see who that turned out, so the one in the soft box was normal the the one thats usually a low power fill I added the gel so see what would happen. Happy with the result.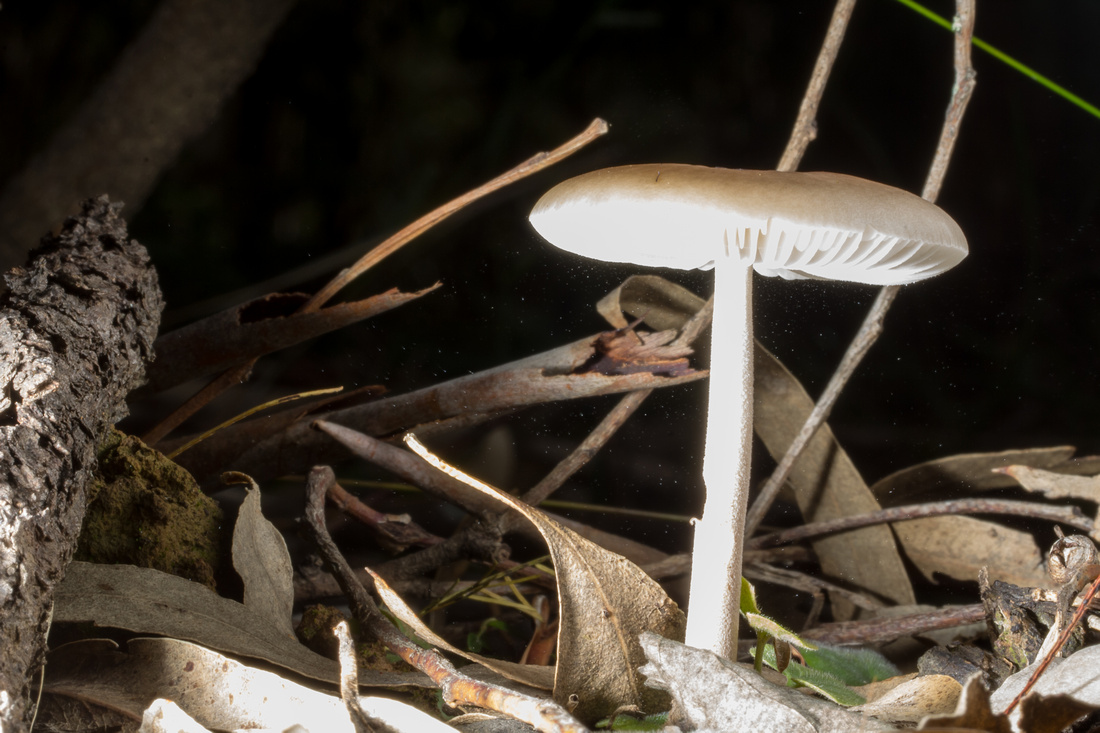 I the set up on the other two mushrooms in the area and the results are below.
From there I went to see what Birds I could find and this week I did pretty good on the bird front as well.
The first was a Grey Fantail (Rhipidura fuliginosa) these little guys are becoming a regular and just sit and pose for you to take these shots, then dart of hunting insects only to return for more posing So I managed a series of these this is the better one of the day.
The next I found was a White‑plumed Honeyeater (Lichenostomus penicillatus) This one wasn't in the mood for posing and was darting around I managed a few shots but none are 100% sharp so I'll have to try this one again next time. This one isn't to bad but still not as sharp as I'd like. More practice.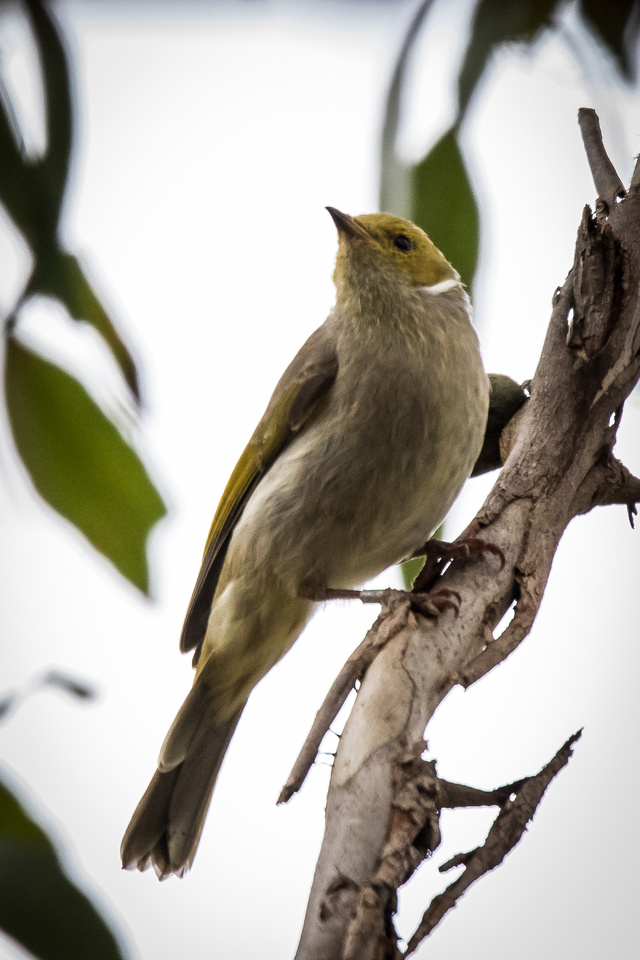 When I turned around fro the honey eater there was this little Weebill (Smicrornis brevirostris) watching me, so I turned the camera around and managed this shot of this tiny bird, on the Breakfast with the birds tour the other week the guide said these are the smallest of the Australian native birds, so a tiny little fella this one.
There was a few Superb Fairy‑wrens (Malurus cyaneus) bouncing around the scrub and I managed to get both female and male of these here.
I then walked around the water cannel and walking along the edge I could here some of the birds calling out there alarm calls and there was a few Magpie larks Trying to chase something off, After a while looking I found the culprit a pair of Pacific Baza (Aviceda subcristata) sitting high in the gum trees, This shot was the best and the focus on the head isn't the best, the shot was hand held, but still no excuse, I'll need to get another one of these in the coming weeks if I can find them again. Thou I did get a good shot a year ago.
As I started to walk back to the car, I spotted a Red‑rumped Parrot (Psephotus haematonotus) high up in a gum tree.
Then a pair of Rainbow Lorikeets (Trichoglossus haematodus) preening.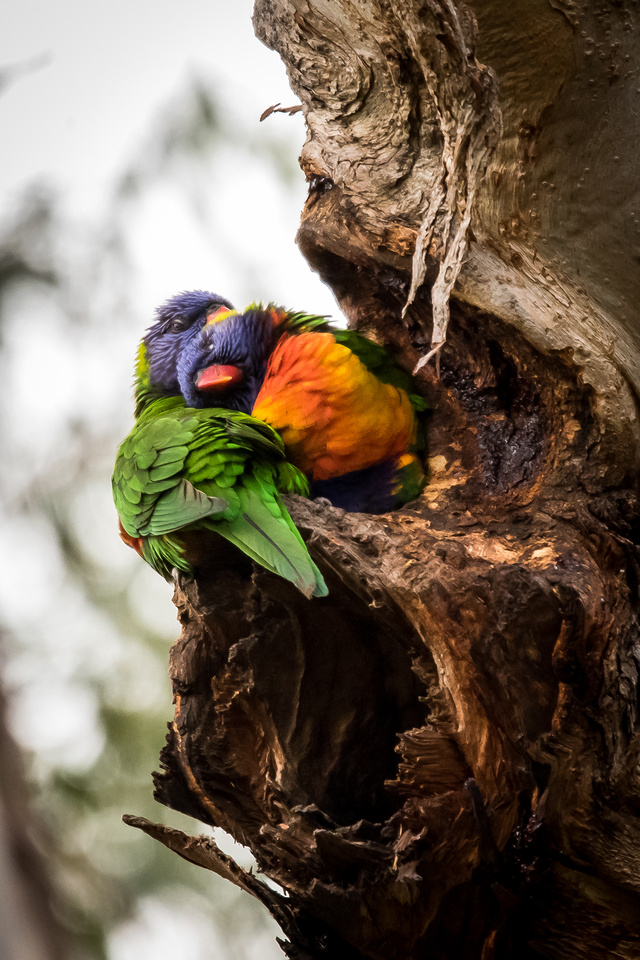 Followed by this Sulphur‑crested Cockatoo (Cacatua galerita) also doing some feather maintenance.
I made it back to the car with a great collection of shots and then headed up to where I normal find mushrooms and found the same one that I found last week alone the Wollemi Pine Walk of discovery. I now named this one Spiky Mikey. Again I used the same process as I did early one flash in the soft box the other gelled with the brown gel. Again happy with this shot.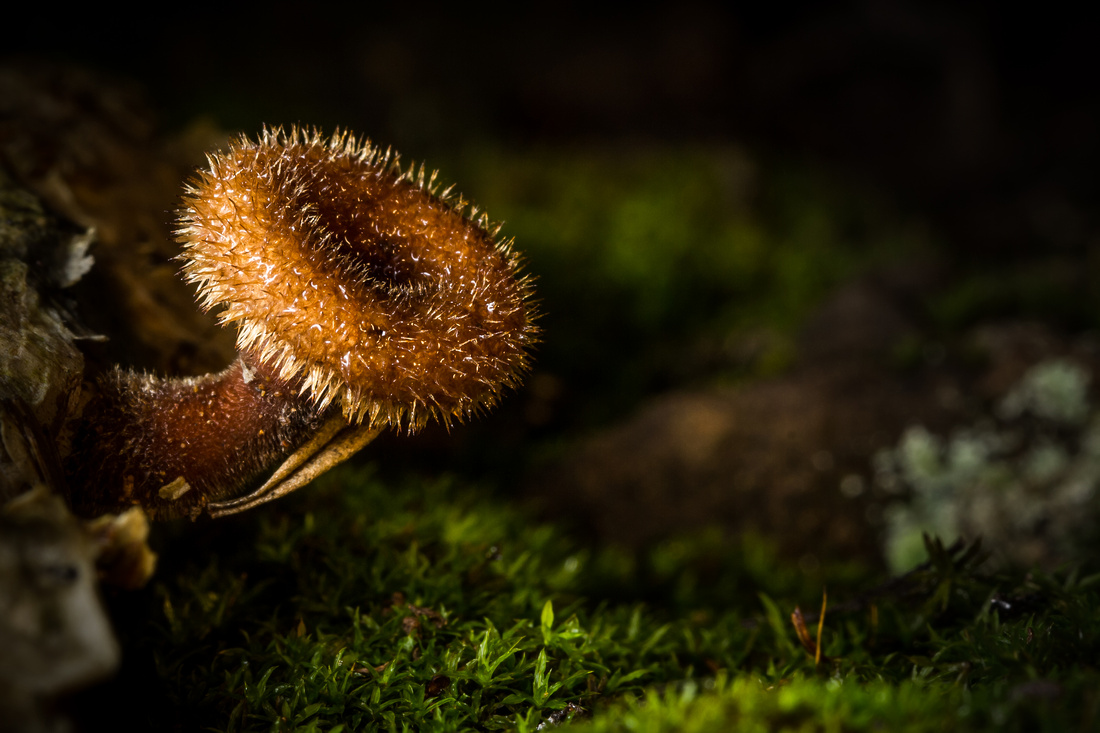 I then drove along the southern loop of the park and as i approached the banksia garden I heard the cry of some Yellow‑tailed Black‑Cockatoos (Calyptorhynchus funereus) So I palled over and got out to investigate, a small family of these were feasting on the Banksias so these few shots show them munching away.
A little further a long the Bell Miners (Manorina melanophrys) were calling out so I managed to get this shot of one, these are usually pretty quick and this was the first decent shot I've managed of these so far.
From there I drove back tot he visitors centre car park and walked to the lakes to see what was going on there. By now I was running out of time as with daylight savings gone the gardens now close at 5:00pm and it was now 4:00pm so only an hour left, but I was happy with he shots of the day so far so all good.
On the way to the lake I found this small group of Long‑billed Corellas (Cacatua tenuirostris) and managed this shot of one on it own.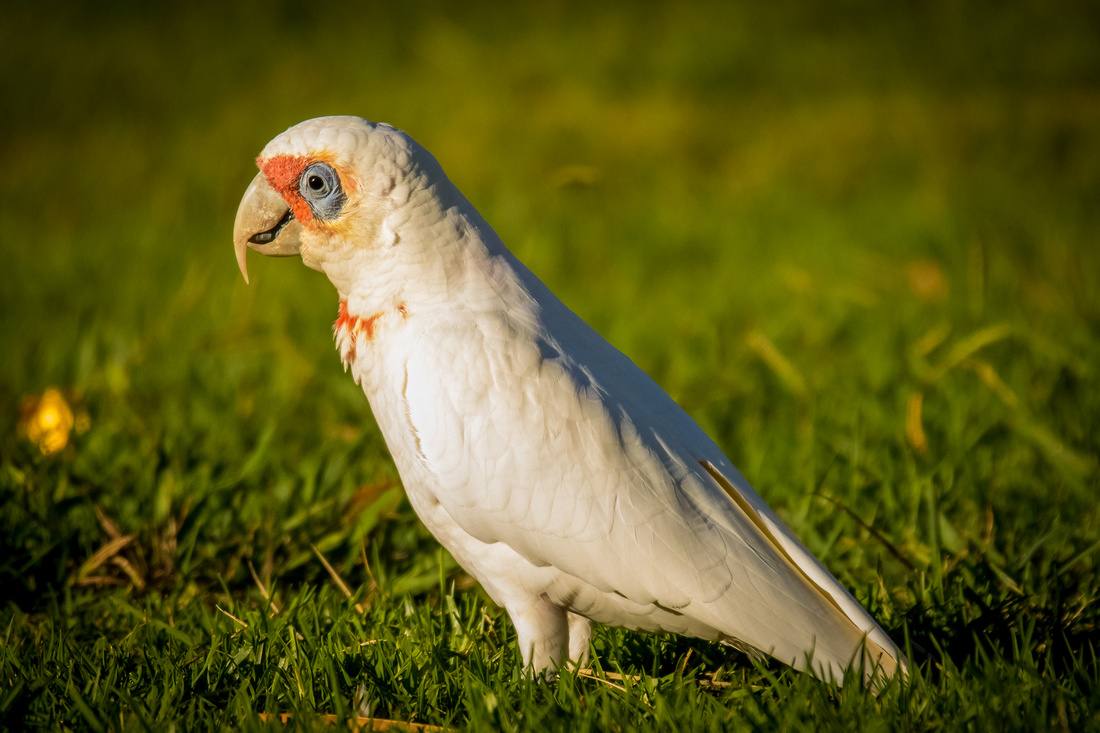 Beside the Corellas was a pair of Australian Wood Duck (Maned Duck) (Chenonetta jubata) this is the female.
I walked along the lakes edge and half way over the small dividing wall of the two lakes when the NSW ambulance helicopter flew over, so why not get a shot of that as well.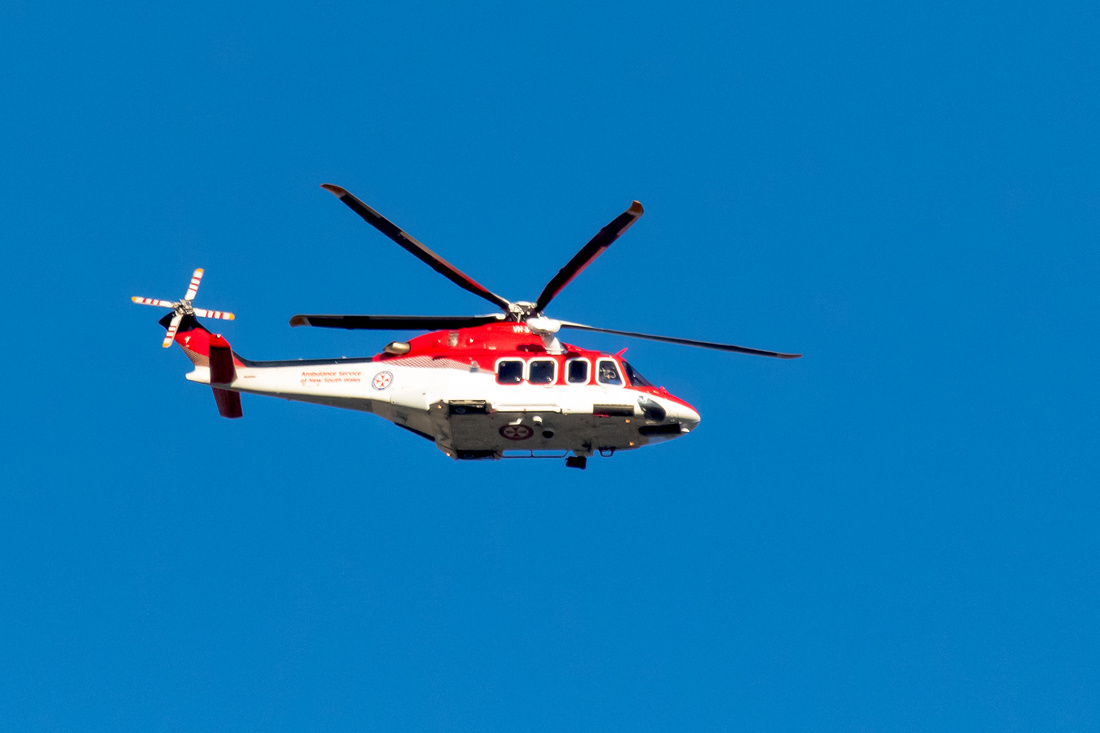 There was a few Swallows darting around over the lake these are always so fast but the 7dmk2's auto focus manage to track these OK so I got a few decent shots of thee , they are tiny so even with the 600mm sigma I need to crop into these to get anything worth seeing. these shots are both heavily cropped.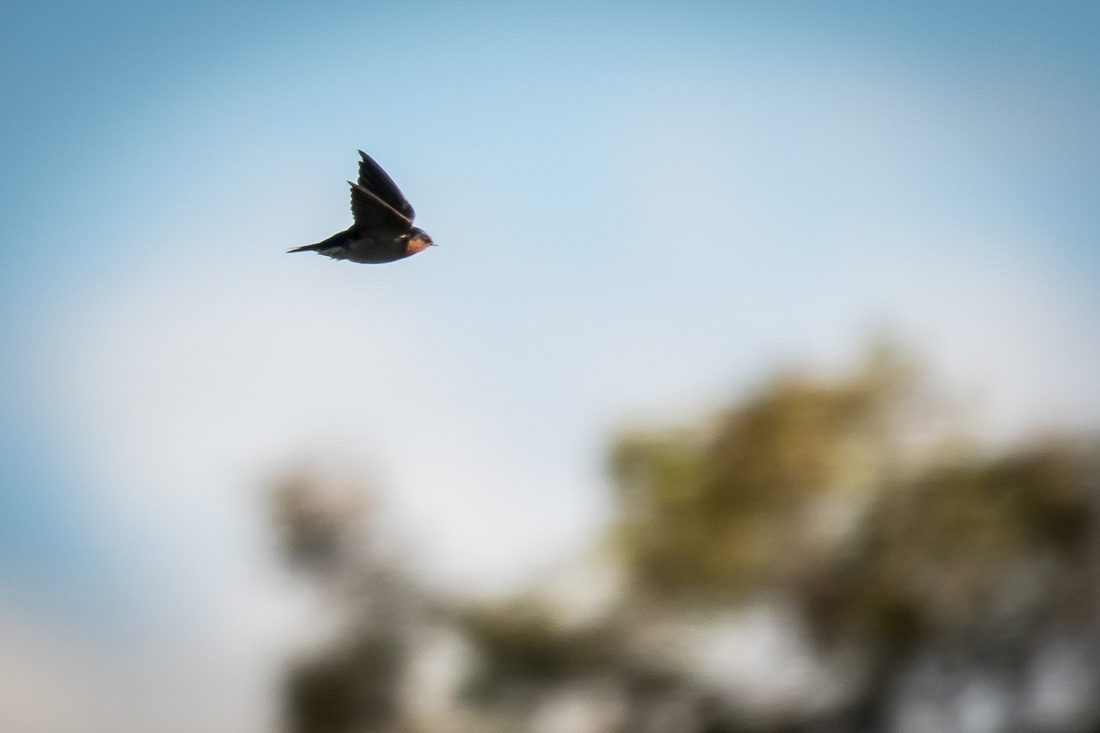 A Willie Wagtail (Rhipidura leucophrys) was skimming the lake as well and I managed a shot or two of him as well.
Then I saw a Little Pied Cormorant (Phalacrocorax melanoleucos)hunting and thought it would be good to catch a shot of it if actually caught anything and after a few dives it came up with a yabbie so I managed a couple of shots as it consumed its dinner, again not 100% focused possible camera shake at 600mm hand held with the light going, but still no excuse More practice needed definitely. So these shots are the cormorant with its catch, I'll leave a few lines here blank for those that don;t enjoy these sort of shots, there is only one other shot after that of a Pacific Black Duck (Anas superciliosa) and a Australasian Grebe (Tachybaptus novaehollandiae) swimming together. So if you don;t want to see the cormorant shots then you can leave the blog here as there won't be anything else after that, If you want to see these shots just scroll down, but I know how some people don't like seeing these sort of images so I'll leave some space here.
Thanks for dropping by my blog, hope you have enjoyed this weeks walk in the gardens.
Glenn.
Don't forget to keep scrolling down if you want to see the Cormorant shot.