This week's blog is a look at last weekend's shots taken in the Australian Botanical Gardens, Mount Annan. This week I've taken a few shots with different lighting or different post-processing of the images so with the same set up just moving the lights gives a different effect and feel to the shots.
This first one was on the first lake in the Gardens a Hoary-headed Grebe (Poliocephalus poliocephalus) Haven't seen one of these around for a few months now so good to see one back.
This ones become a regular of late and only to happy to have its photo taken a Little Pied Cormorant (Microcarbo Melanoleucos)
The same shot after some post processing with Topaz impressions 2 giving it a painting feel to it.
For this shot I gave it a little more room to get in the mirror reflection, the last few weeks have been good for reflections here.
​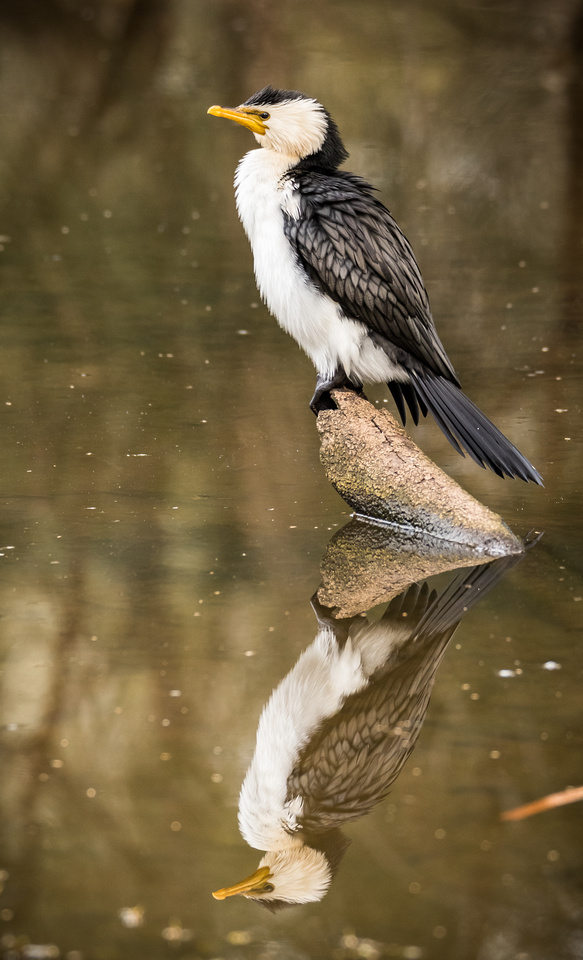 In this shot White faced Heron flew by and the cormorant is putting on a display trying to scare it off, the Heron wasn't really interested and kept flying past.
Another good week for mushrooms this week. This week I've several shots with the same set up but just different lighting so you can see the effects the different lighting can have, some work better than others. this first one its more of a natural lighting but still a lit shot.
This one I've gone for underexposing and using only the lifting to light the mushroom you can see the effect of the back lighting on the right of this one.
This one again I also took into Topaz Impressions and had a quick play with it, these so far haven't taken much time to get these effects, given more time and a bit of practice and getting to know it better I'm sure some of these will turn out better. Starting to get a feel for what I like in it, though a long way to go yet here.
This one's sort of in-between with the lighting, but not a clean shot as there was still some grass in between the camera and the mushroom. So not the best.
I had a bit of a play around with Topaz on this one to see if it improved it, but looks like I needed to take it much further, so not really hoary with these two.
This shot shows the set up and actual lighting conditions for the next few shots, the Speedlites and foil are re-positioned in each shot otherwise pretty much the same, the camera is not moved though over the shots seams to sink lower so something I'll need to watch out for next time.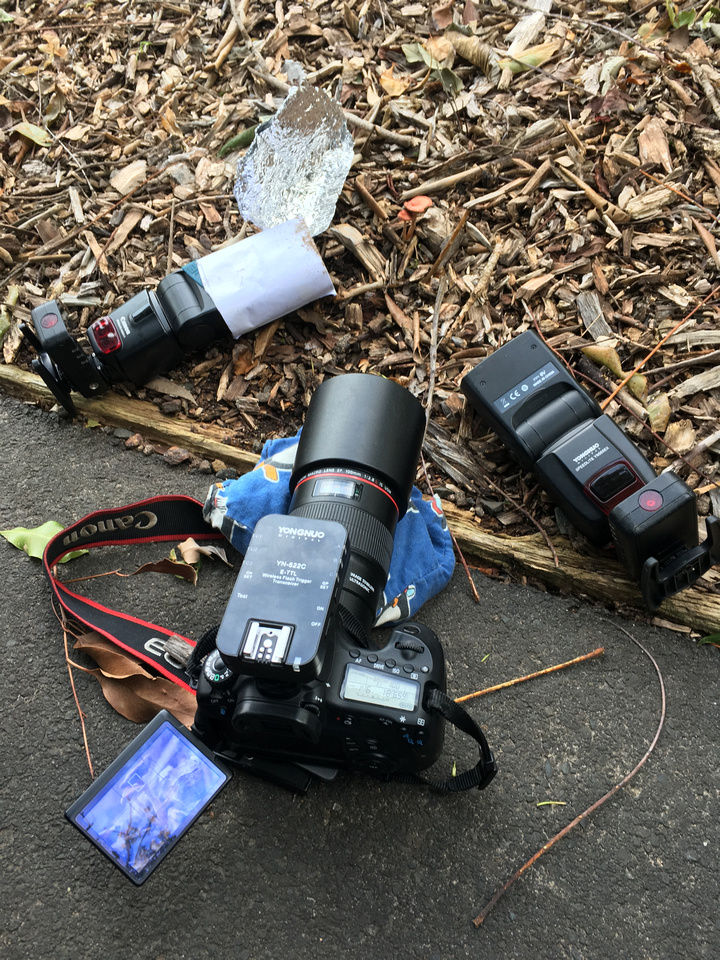 So the above shots are mainly just different positions or strengths of the lights, the next ones are after playing with them via Topaz Impressions and just some of the different effects you can get out of the same shot. You get the idea that there are so many options to play with here. These are just a few. Some go for the abstract to the realising styles of painters, so plenty to choose from there.
So you can see from one setup you can do so much between lighting and post processing the above six shots are all form the same camera location. So plenty of options out there to explore.
This next shot was for the same place I took these last shots from what I was taking these a little Rose Robin (Petroica rosea) came by to watch, it kept coming back so I managed to get this shot, would have preferred a slightly better angle to get the stick in the back ground away for the bird, but when I moved it took off, so one to look out for next time I'm there.
Lastly for this week a shot of and Eastern Yellow Robin (Eopsaltria australis) The first one a straight shot and the second one after playing in Topaz again, not happy with the bird life ones as yet so need more play time here to find what I like, but still a nice effect so gives you an idea what's possible.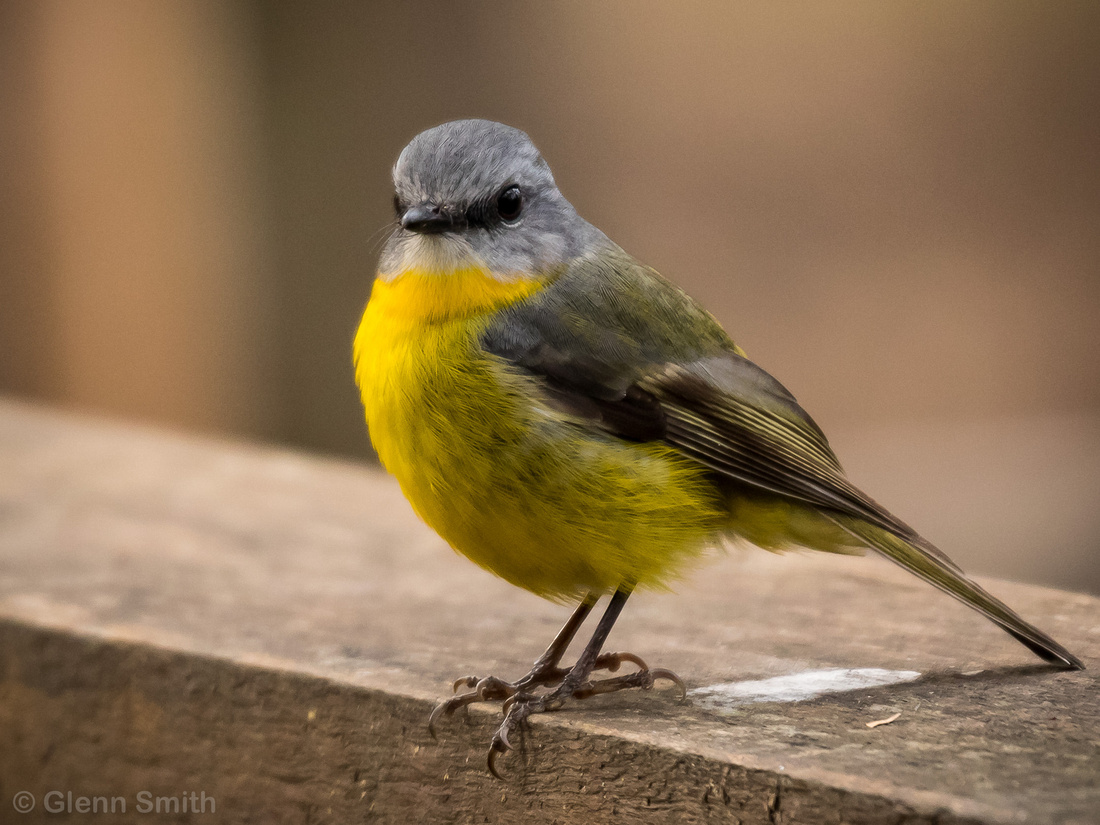 For a limited time, the Topaz Labs have this at 40% off till the 7th July 2016 from memory and I also have a discount code that is supposed to give you $20 off, it also gives me $20 credit for the first person that uses it, after that everyone will get the $20 credit don't get anything. Which is fine I am only passing on what I find and what works for me, if you check back on some of my work on the last couple of posts you'll find a few more that I've used it on, you can take it way over the top if that's what you like. I try and keep it a little more realistic so far though have done a few further down the track. ‪http://www.topazlabs.com?hr=aq4E8 You can also give it a go with a 30 day free trial license from their site for anyone that's interested. I've now bought the full license of Impressions, but not Simply as yet, I'll keep playing with impressions and maybe go for simply later on if I find a need or a want.
So that's it for this week's blog, IT gives you an idea of the effects of different lighting and post processing can have on a shot.
Thanks for dropping by my Blog I'll be back next week with some more.
Glenn