This week I managed to get out both days for a few hours each with the cameras. Again to the local Australian Botanical Garden's Mount Annan.
The First shot here is of a Grey Fantail (Rhipidura albiscapa) these ones are all over the woodland area chasing down small flying insects, they perch for a short time then back in the air hunting.
This next ones a Fan-tailed Cuckoo (Cacomantis Flatbelliformis), in Spring you can hear these calling all over the woodland area with their distinctive trilling call. This one was in the middle of a wattle tree so not really clear shots, till it moved on to another tree branch here I got this shot. Still got one branch in the way so not the best shot. The one a few months back I posed in the blog was much better.
As always the Eastern Yellow Robins (Eopsaltria australis) were about, These little ones are all over the tree trunks studying the ground for insects to drop on.
This weekend on both days I spotted a couple of Rose Robins (Petroica rosea) about as well, these certainly added a splash of colour around the woodland area with their bright, red.
There was a few Jacky Winters ((Microeca fascinans) about competing with the fan tails for insects in the woodland area as well.
The last one for this week was this Red Wattle Bird, (Anthochaera carunculata) high up in one of the gum trees, I haven't seen to many of these in the woodland area so something different for this area of the gardens.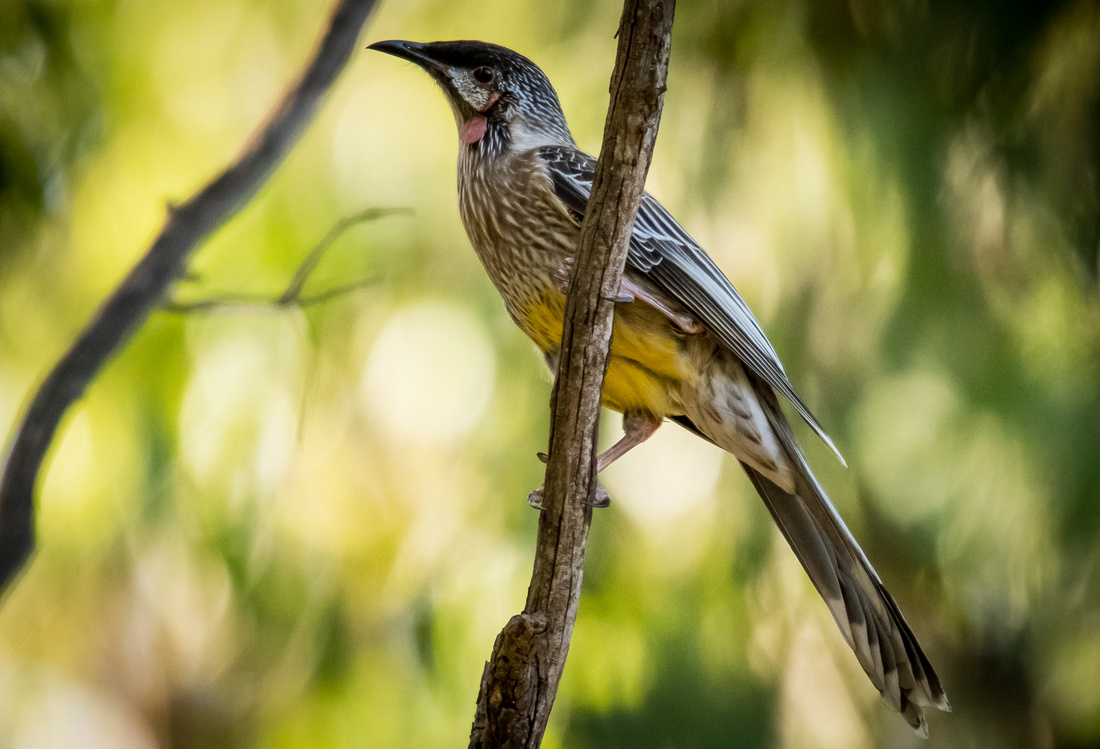 These next few shots as some of the shots taken over the last few weeks in the odd times I managed to get out with the cameras while carrying out the home renovations.
This first three is of a purple fungus growing on the base of a tree stump up in the Wollemi pine walk of discovery area of the gardens. This one as best as I can get is Chondrostereum purpureum as ID-ed by Ray Palmer over at flickr, Ray has a good collection of mushroom shots there on flickr for anyone that likes those sort of shots. It wasn't till I got home and viewed these shots on the screen till I realised just how fluffy these ones looks up close, these are only tiny and no more than 2 to 3mm high so just looked like a layer of purple over the stump.
This next shot of a katydid was taken right out side my front door, so this one was a easy get in the middle of the renovations.
This one was from the back yard again another one that I managed during the renovations with out spending a great deal of time away from the work.
This last one is of a Monarch butterfly (Danaus plexippus) again taken in the Australian Botanical Gardens, Mount Annan.
That's it for this weeks shots and some of the ones from the past few months for this week. So should be back to normal now with the regular weekly blogs again rolling out.
Thanks for dropping by my blog, be back again next week.
Glenn.